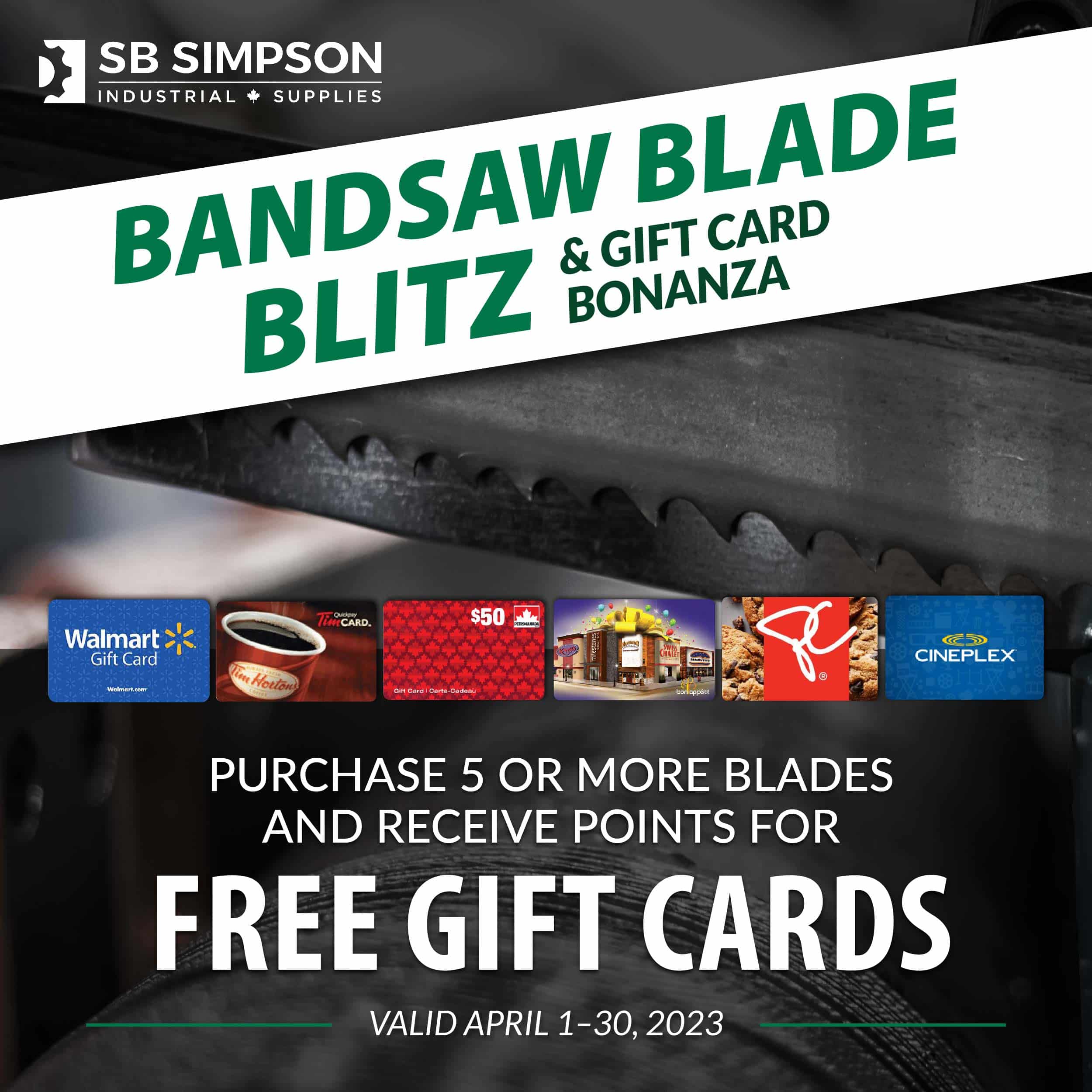 Buy More Blades, Get More FREE GIFT CARDS! Stock up & Save Now
From April 1-30th, when you buy 5 or more bandsaw blades, you earn points to get FREE gift cards. We'll also match any competitor's pricing for the same quality blade on Blitz Days for new customers. Offer wont last long
In-House Bandsaw Weld Centre
High-performance blades and custom welding services
Bandsaw blades are part of SB Simpson's history and heritage. We feature an on-site bandsaw weld centre with a full-time expert welder on staff, production blade capacity, and trained saw service specialists available to help you optimize your cutting applications.
Whatever material you're working with – aluminum, carbon steels, or exotic metals – SB Simpson can help you improve your metal cutting.
We feature a full range of Bahco coil material in stock and then weld-to-length to deliver custom blades quickly for all your cutting needs, including:
General Purpose Carbon
General Purpose Bi-metal
Production Bi-metal. Specially designed tooth shapes for maximum cutting performance giving high productivity cutting of large or small work pieces and contour cutting.
Production Carbide. Products that are superior to bi-metal blades with higher cutting rates, lower costs per cut, and extended tool life.
Specialty Materials. Products to cut a wide variety of materials from stainless steel, cast iron, ferrous metal, irregular shapes, high alloy steel, sheet metal, I-Beam, angle iron, structural steel, square and round tubes, H-beam, channel and bundles.
We guarantee every weld that leaves our facility and we offer guaranteed trial orders.
Cut Costs with Our Bandsaw Blade Testing Program
We'll provide a FREE sample blade if you commit to test it versus your current blade.
You test both blades to measure cost per cut. E.g., a $100 blade that cuts 1,000 pieces = $.10 cost per cut versus a $125 blade that cuts 1,500 pieces = $.08 cost per cut.
If the sample blade does not reduce your cost per cut, we'll provide additional sample blades for testing until we find the most cost-effective solution.

Stay Connected
Get exclusive monthly specials delivered right to your inbox